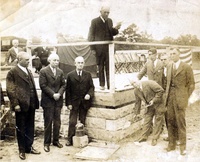 Laying the cornerstone in 1926
Riverdale Baptist Church, initially founded as a mission outreach of the First Baptist Church of Hyattsville in 1926, was known then as the First Baptist Church of Riverdale. The church services were held originally in homes until the first sanctuary was constructed in 1928. The little white sanctuary that could seat 150 still stands today at its original location on Riverdale Road just north of the Baltimore Washington Parkway. The original facilities were expanded in 1946 and 1962. By 1972 two services were required on Sunday mornings to accommodate the growing church membership. In 1972 the church was listed as one of 10 ministries in the book America's Fastest Growing Churches by Elmer Towns.

In 1971 Riverdale Baptist School was founded. In its first year, the school had an enrollment of 188 students in classes kindergarten through sixth grade. The school also grew rapidly to its current enrollment of more than 1,000 students in grades K3-12.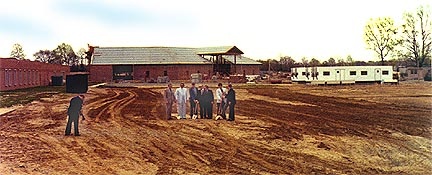 1975 new construction
With the ministry growing at such a fast pace, 156 acres on Largo Road in Upper Marlboro, MD, were purchased in 1974 for the purpose of constructing a new sanctuary and educational facilities. The educational wing was built first in 1975 with a total of 70,000 square feet and, in 1978, the 2300-seat sanctuary was constructed.
Throughout the history of Riverdale Ministries, countless thousands of lives have been touched by God's grace for eternity.